Over the last few years, Virginia's vineyards and wineries have become some of the state's most popular wedding venues – which should come as no surprise to those who have traveled its internationally-recognized wine trails. Virginia's natural beauty makes it a breathtaking backdrop for such a romantic event, and wineries and vineyards combine views of the stunning landscape with great local food and wine. And as more Virginia wineries and vineyards open, the state is becoming even more of a wine destination – and an even more popular wedding destination for wine-loving couples!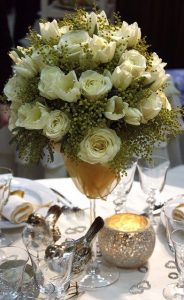 Virginia wineries and vineyards are some of the most beautiful places to enjoy 360-degree views of the incredible landscapes across the state, from the rolling foothills of the Piedmont to the sandy Tidewater coastline. Few experiences are more magical than an evening with a glass of wine in hand, watching the sun dip behind the mountains beyond the grapes that wine was crafted from. Couples from across the country are taking full advantage of the charm, great views, and fantastic wine at Virginia vineyard and winery wedding venues because there's no more romantic place for such a special occasion.
Why Get Married at a Virginia Vineyard?
Virginia wineries and vineyards are consistently at the top of the list for best wedding venues on wedding blogs and in magazines. And it's no surprise why – while many spots in Virginia have incredible views, there are few spots as intimately tied to Virginia's landscape that offer the level of amenities and top-tier food and wine available at vineyards and wineries. From tasting rooms that are modern with floor-to-ceiling windows, to charming renovated barns, to stately converted historic homes, Virginia vineyard and winery wedding venues are as diverse as the couples who marry here!
Virginia Winery Wedding Venues: A Match Made in Heaven
Many if not most of Virginia's vineyards and wineries can be rented out as a wedding venue or for other private events. For vineyard/winery owners, it makes great business sense, especially in the early days of a vineyard. Since new vines can take several years to be ready for harvesting, vineyards with new plantings can still make money from their great amenities (tasting room or other event space, kitchen, and bar) and amazing view by operating as a wedding venue. For couples, vineyards and wineries make for a memorable and romantic location for their big day and the perfect backdrop for photos. 
A Wedding Venue to Suit Every Taste
Wine is part of Virginia's history and culture, and there are vineyards and wineries located across the state that showcase their owners' unique personalities. Virginia has the right vineyard to fit the taste of every couple – and of every potential vineyard owner! Some Virginia vineyard and winery wedding venues have rustic barns that would be perfect for a natural, romantic, or rustic wedding. Other wineries and vineyards have more unique and modern structures that contrast the environment around them, which would suit elegant, sleek, or minimalist weddings. 
While the perfect Virginia vineyard/winery wedding venue is out there to suit everyone, these venues are in high demand. Wedding venues can oftentimes only host one wedding per weekend, especially if there are multiple events for each wedding at the venue, like a rehearsal dinner or morning-after brunch. This means that it's important for couples to decide on a vineyard/winery and book early, particularly if there's a special date that the couple wants. For those looking to start a Virginia vineyard/winery wedding venue business, this means there's never been a better time to move forward with your dream as your services are sure to be in high demand!
What to Expect When Booking a Vineyard/Winery Wedding Venue
All venues are different, and have packages that include different combinations of amenities and services. Venues also have different requirements for their couples. Couples should familiarize themselves with different potential venues' pricing and packages so that they have an idea of what to expect and can communicate more clearly with the staff at the vineyard/winery. This way, it's a simpler process to determine whether the venue is the right fit for the wedding. For instance, some vineyard and winery wedding venues require couples to pay for a minimum amount of time, choose catering and other vendors off of an approved list, or pay a fee to bring in outside liquor. Whatever you're looking for, there's an amazing Virginia winery/vineyard wedding venue to serve as the perfect backdrop for the wedding of your dreams! Click here to browse Wedding Venues & Virginia Wineries for Sale.