Planning a wedding is hard. Whenever you have one question answered it seems to bring up a dozen more. Take some of that wedding planning stress off your shoulders by planning to have your wedding at a winery. Here are some of the reasons why a winery is a great choice. 
The Perfect Photo Op
Wineries and vineyards are notoriously beautiful and their stunning scenery will provide you with an amazing backdrop for gorgeous wedding photos. 
The Wine Will Be Amazing
You and your wedding party will be drinking some pretty amazing wines and you can even schedule a wine tasting for you and your party for an extra special pre wedding treat. 
Bad Weather Won't Be A Problem
Many wineries provide both indoor and outdoor ceremony spaces so inclement weather won't cover your special day with dark clouds. Just check with the winery to ensure they provide an indoor solution in the case of bad weather. 
A Destination Wedding For Less
Whether you fly coast to coast or you choose to remain in your own home state, a winery wedding always feels like a romantic getaway. 
Now that you know why you should choose to have your wedding at a winery it's time to take a look at some  amazing wineries.
Veritas Vineyard and Winery
Veritas is located in Afton, Virginia and has amazing views of the Blue Ridge Mountains. Couples rent the entire property for their big day and choose where on the property they would like to hold their ceremony. The winery has multiple indoor and outdoor settings that the couple can choose from. The Winery can also host your reception and they have lodging on site. 
Alcantara Vineyard and Winery  
Located in Cottonwood, Arizona, Alcantara is a Tuscan themed winery that couples can rent in its entirety to celebrate their big day. Although the winery is located in the desert, it is far from arid as the property overlooks the Verde River and Oak Creek. The property does not have onsite lodging but the wedding party can add magic to the special day by staying in nearby Sedona surrounded by the mystical red hills.
King Family Vineyard
The charming small town of Crozet, Virginia is the location of the stunning King Family Vineyard. The vineyard provides multiple venue options for your ceremony and reception. All weddings are held in the evening after the winery has closed to the public. There is no onsite lodging but the Vineyard is a short drive from the beautiful and historic city of Charlottesville.   
Biltmore Company 
Head to Asheville, North Carolina to celebrate your wedding like American royalty. The Biltmore is a French Renaissance Chateau and is the former home of the Vanderbilt family. They have been hosting weddings at The Biltmore since 1924. The Biltmore offers an all inclusive package that allows the happy couple to simply enjoy their big day in this romantic, fairytale setting. 
Wolf Mountain Vineyard and Winery 
Nestled in the Appalachian Mountain foothills, the Wolf Mountain Vineyard and Winery offers everything you need to celebrate your big day. The winery provides a rehearsal ceremony the day before, the main event  and the reception after the ceremony. Charming cozy cabins and a Bed and Breakfast are located nearby the property. The winery closes its doors to the public for every wedding creating a lovely private space for you and your guests. 
With wineries that run the gamut from French Chateau of the rich and famous to the magical red rocks of Sedona, planning a winery wedding is the perfect way to easily create magical ambiance for your ceremony while allowing you a little more time to relax. So go ahead, choose your favorite winery and let them help you schedule your big day.
FAQ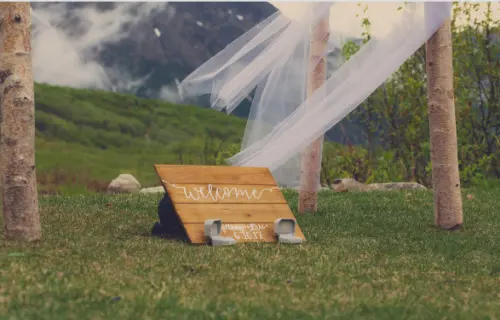 What should you wear to a winery wedding? 
Winery weddings are a little less formal and dressforthewedding.com recommends semi-formal and dressy casual options such as a nice cocktail dress or "floral wedding guest dress or maxi dress." If you don't want to wear a dress it is perfectly acceptable to wear dress slacks and a nice top.
What do you wear to an engagement party at a winery?

Thetrendspotter.com recommends wearing "a tea-length dress, a midi dress or short, well fitted dress" for those not wearing a dress, "a suit and dress shirt or nice slacks with a button down shirt".