A wedding is one of the most important days of your life. Planning a wedding during peak summer months can be stressful both for you and your invited guests. Planning a winter wedding may feel counterintuitive but don't write off the winter months just yet. Below you will find 4 reasons that you should consider a winter wedding.
Vendors, venues and honeymoon suites 
When you are trying to create your perfect wedding, one of the biggest stressors will inevitably be whether your preferred vendors and venues are available. High wedding season will have you stressed and scrambling to compete with the many other couples who are also trying to create the wedding of their dreams. When you decide to have your wedding during the winter months, you are far more likely to find your preferred vendor and venue will be available on your big day and very often at a reduced cost to you. The same goes for your dream honeymoon destination. If you pick a snowy winter honeymoon destination you gain the luxury of picking and choosing your perfect honeymoon destination and suite. What could be more romantic than cuddling up in front of a roaring fireplace with snow falling down outside your window. 
Romance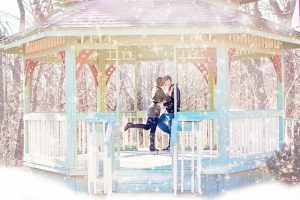 Which brings us to our next reason – Romance. It's time to move beyond the ocean/beach honeymoon and start thinking outside that sandy box. Trading sweat and sand for a blazing fireplace and glowing candlelight creates the romantic honeymoon of dreams. As for the wedding proper, forgo a traditional cocktail party and treat your guests by serving cozy warm drinks by a roaring fire and create the perfect atmosphere for your big day. Candlelight added to your tables and outdoor areas continues the warm romantic glow and sparkling snow covered scenes are the perfect romantic backdrop for your wedding photos. Because the wedding is taking place in the winter months your preferred venue will be decorated for the holiday season (Hanukkah, Christmas or Valentines Day) providing additional stunning decor with no added expense to you.
Creative
Because the winter season brings cooler weather, you can be very creative with everything from attire to bouquets to favors. Long sleeved gowns and full tux which would be too hot in warmer months will provide welcomed warmth. Whether you have your ceremony inside or outside you can provide your guests with blankets for an extra cozy and charming addition to your ceremony. Adding capes and sweaters to your wedding party's attire will add a layer of warmth and creativity to your wedding party's look. You can create stunning winter bouquets and floral decorations with the addition of pine cones, berry branches, holly and ivy. Creating menus and beverage lists for a winter wedding allows you to go off the beaten path and turn up the unique by offering mini hot creamy soup appetizers, heartier mains and lovely traditional winter beverages such as hot chocolate, mulled cider and hot buttered rum. 
Easier for guests
High wedding season can be challenging for your guests. There may be competing invites, vacations and kids to take into consideration. A winter wedding avoids high wedding season's wedding fatigue by avoiding all of that. Your nearest and dearest are far more likely to accept your RSVP when there is not as much competing for their time and attention. A wedding in winter may even be a welcome reprieve for the winter doldrums that are bound to set in mid-season.
Planning a wedding can be stressful. Competing with all of the other weddings and events occurring during peak wedding season just adds to this stress unnecessarily. Planning your wedding for the winter months helps alleviate this stress for both you and your guests. So get comfy and start researching all of the best wedding venues for an amazing winter wedding full of cozy warmth, magic and romance.