Getting engaged is a magical and exciting time – but the nitty gritty of planning a wedding can be a challenge! Hosting a large, elaborate, beautiful event with many guests is complicated even for professionals. We'll help you navigate choosing the perfect wedding venue – the first step toward making your dream wedding a reality!
The Guide to Finding Your Perfect Wedding Venue
Decide on Your Budget
The most important question when beginning to plan your special day is the budget. The venue is a significant portion of any wedding budget, so how much money you're working with is the most important question to start with. Also keep in mind that weddings are much more expensive in the summer months than in the off-season. 
(General) Location, Location, Location!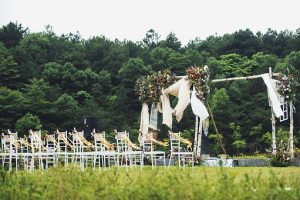 You'll also need to decide on a general location for the wedding. Will this be a local wedding or a destination wedding? The average price of weddings shifts dramatically from area to area, so you'll need to take your budget into account when choosing your location. You'll have more room in your budget for extras if you choose to host your wedding in a lower cost-of-living area.  
Figure Out Your Wedding Vibe
Your wedding venue should coordinate seamlessly with the wedding vibe and aesthetic you're aiming for. Think about whether you want a wedding that is ultra-glam, elegant and timeless, or rustic and charming. (If you're not sure, try making a Pinterest board with your favorite wedding photos to take your wedding pulse!) Once you know your aesthetic, you can find venues that pair well with that vision. 
Types of Venues and What's Included
Different venues include different services in their prices. When venues include services, it means that you don't have to go find another vendor to provide it. On the other hand, this may limit your choices of caterer, type of bar, or wedding cake. 
A venue that doesn't include anything may seem like a steal. But renting and transporting tables, chairs, decorations, a sound system, and potentially portable bathrooms can make the wedding even more expensive (and complicated) than an all-inclusive option! 
Consider Your Crowd
Before choosing a venue, you'll need to have a reasonably good idea of your guest count. Some spaces are suited for small, intimate weddings and would feel cramped with a large crowd. Other venues are spacious and airy and would seem empty and sparse with a smaller guest list. 
Additionally, you'll need to consider the accessibility needs of your guests. If you have many elderly and disabled guests, you want to make it as easy as possible for them to enjoy themselves and navigate your venue. 
Think About Your Guests' Enjoyment
While your wedding is your special day, you want your guests to have an amazing time too! Here are some considerations to make sure this venue will provide a great experience for your friends and family:
If any part of your wedding is outside, how will the space be kept warm or cool?

Are there enough bathrooms? 

Is there enough seating? 

If you're inviting out-of-town guests, is the venue close to the hotel? How will guests get to and from the venue?

Are there parking options? How close are they to the venue?
Do Your Research!
Even after you've read everything on the venue's website, there's a bit more research you need to do. 
First, do not skip out on a site visit if possible! Even if you're hosting a destination wedding, make a serious effort to see the venue in person as you can have a completely different experience than just seeing photos.
Second, read reviews on multiple websites. Even if the venue looks perfect, you'll want details about the actual experiences of paying customers to know whether that venue is worth your time and money on the most important day of your life. 
Two Deal Breaker Questions
Here are two final questions we suggest considering and asking your potential venues before making a decision. 
Are there indoor and outdoor options? This is most important if Plan A is to host your ceremony or reception outside, as you need to know about the contingency plan in case of bad weather. (And make sure you actually like the indoor spaces, not just that they are available!)

What are my options for vendors? Some venues require you to use vendors from a selected list. This includes your wedding planner, florals, catering and alcohol, and band or DJ. The required vendors may be out of your budget or may not fit your vision, so you definitely need to look into this before selecting a venue.