When you are planning a wedding that will take place during the winter months, often thoughts go to warm destinations overseas. The Caribbean is a perfect example. However here in the US there are plenty of areas in the country that have extremely mild winters and would be a warm and magical place for your big day. Below we will review a few of the best.
The William Aiken House 
The William Aiken House is located in Charleston S.C. The Charleston area has a subtropical climate with an average of 230 days of sunshine each year. The temperature in the winter ranges from 47 degrees to 52 degrees Fahrenheit with minimal chances of rain or flurries during the winter months The charmingly sophisticated William Aiken House is a gorgeous southern beauty that will add sophistication and southern charm to your special day. The William Aiken House is located in downtown Charleston S.C within walking distance to fine dining, historic sites and amazing shopping. The Inn has gorgeous private grounds and stately ballrooms with expansive outdoor covered piazzas which overlook the grounds. Entertain in luxurious private gardens, on manicured lawns and in spacious courtyards for a more intimate celebration. The popular Carriage House Suites are tucked away from the hustle and bustle of King Street and are perfect for overnight stays or getting ready the morning of. Add an elegant pergola and a beautiful reflection pool and you have the perfect wedding venue. 
Agave of Sedona Wedding & Event Center 
Consider having your winter wedding in magical Sedona Arizona at The Agave which is located in the heart of Sedona. The days are warm with an average temperature of 60 degrees Fahrenheit and with an average of 278 sunny days you'll be sure to have blue skies. The evenings do get chilly which means that you will be cuddling up by the fire when the sun goes down. Agave of Sedona's Ceremony Terrace is a circular terrace that offers awe inspiring 180 degree views of the surrounding mountains. With native pines, star jasmine vines and English Lavender you will have a view of which dreams are made. The Montage Ballroom has floor to ceiling windows that provide views of Sedona's majestic red rock and elegant custom hand blown glass wall sconces add a soft glow to the room. The smaller Celebration Terrace has panoramic views of Sedonas famous red rocks and unforgettable sunsets. It is the perfect space to mix and mingle with your wedding guests.
Holman Ranch 
Holman Ranch is an exquisite estate located in Carmel Valley, California with lovely scenery, rustic decor and luxurious details. Starting at 500 feet elevation and reaching 2000 feet elevation the recently restored stone hacienda has breathtaking views of the San Lucia Mountains. This amazing wedding venue can accommodate as many as 500 guests and as few as 2. The Holman Ranch holds only one event at a time which means that the 14 guest rooms are reserved for the wedding party. They even have a glam room which offers the perfect space for the wedding party to get ready. It is equipped with a glam table with lit mirrors, a rolling rack for garments as well as full length mirrors. The game room is another area on site perfect for the wedding party to prepare for the ceremony but also provides plenty to do during the party's down time. Holman Ranch has a variety of outdoor and indoor areas to host small intimate weddings and receptions or large events with hundreds of your nearest and dearest in attendance. You can choose outside areas such as the Rose Patio, Ceremony Lawn or Stone Terrace and be surrounded by Carmel Valleys amazing beauty, or choose an indoor space such as the popular Carriage House which is perfect for dancing the night away under twinkling lights. Many venues fail to provide the wedding party with something to do during their down time. At Holman Ranch there are two areas for the wedding party to relax in. When not getting glammed up for the wedding, spend some time relaxing with your loved ones in the glam room's lounge area or the game room which has a pool table, dart board, working jukebox, hand-carved wooden bar, flat screen, and a card table.
Key Largo Lighthouse Beach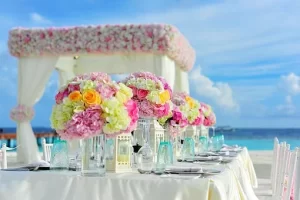 Perhaps you have always dreamt of your wedding taking place on your own private island with just your nearest and dearest. Key Largo Lighthouse Beach says that you can do just that. For 4 days and 3 nights you will have the island all to yourselves. What could be more romantic than getting married at a beachside estate on your own private tropical island  The Florida keys are known for their laid back vibes and the amazing beauty of a tropical paradise located right here in the US. Enjoy the warm, crystal clear water and the last living coral reef in North America. The weather in Key Largo in the winter ranges from 65 – 70 degrees for the perfect warm weather wedding destination.  Whether you decide on a simple ceremony and reception dinner or want to go all out with a welcome party and a morning after brunch, nothing can compare to spending 4 days and 3 nights with those you love to celebrate your big day on your own private island getaway.
When planning your winter wedding your thoughts may automatically go to an exotic locale for a warm weather destination wedding. However there are many beautiful and snow free destinations right here in the US. All you have to decide is whether you will enjoy a subtropical climate full of history and southern charm, submerge yourself in the magic and mysteries of Sedona's red rocks, stand in a stone Hacienda taking in the majestic views of the  San Lucia Mountains or relax and revel in your own private tropical oasis. The choice is yours. Where will you get married?