Tis the season of engagements, and what happens next? Weddings! Last year the average cost for a wedding was almost $26,000 and on the venue itself right around $13,000. The cost is trending upwards and what better way to be part of such an important day than to own your own wedding venue and/or event space.

Wedding venues are a huge opportunity but it also comes with a good amount of work and keeping on trends. If you're thinking why should I own a wedding venue, well you've come to the right place.
Why should you own an event space?
Profitable
The wedding industry is a very profitable enterprise, especially that of the venue, which takes up to 50% of the budget. This means that it's comparatively safe for a long-term investment. The revenue at the beginning will assist with the larger monthly costs of the venue as well as any updates you want to be made.    
Creativity Output
If you love planning projects, having a creative output with regards to event coordination and wedding planning could be right up your alley. When clients come to plan, it's a fun process to get to know them and what they want. Having some type of background in event planning or at least scheduling will bode you well.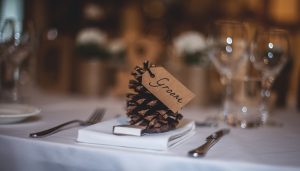 Making Memories
You will have a first-hand account of many memories made as well as history especially if you choose to have your event space open to weddings. Your venue will hold a special space on all your client's hearts for the rest of their lives. These memories can grow into more and more business opportunities as word of mouth and online ratings are what venues depend on.
On Location Housing
If you decide to invest in space and land, there is the option of living on the same space or building more to have on-site housing for your guests. This is an added bonus and makes the event that much more special, especially for those families and friends that are close-knit. If you decide to live on the same property, while you will have clients nearby, it's also nice for oversight as well as having your space subsidized directly by your business.
Event Flexibility
While barn weddings are increasingly popular, there is a person for any type of wedding venue. You can make your venue what you want it to be and change what you want as well. The good news is that clients have a very clear vision as to what they want and as long as you offer good bones they can go from there. As long as you have a large enough place that can also be cozy and comfortable you'll be very popular.