Spring Wedding Time
Spring and romance are in the air and more than trees are budding. The transition into spring is my favorite time of year with its warm breezes and the lush greenery making a comeback.  Spring pastels are light, dreamy and easy to match colors.
Popular Spring Color Pallets
As I mentioned above, colors are soft and romantic in the spring. Color combinations for 2019 seem to be revolving around blushes, mints, and dusty beautiful blues. My favorite combinations coming out of this spring's most popular include the pairings of gold and mint and secondly rose gold and blush.  These are delicate combinations that can work with either an outdoor wedding or a beautiful indoor motif. The colors need to be right for you and no matter what you end up choosing you will make wonderful memories.
Spring Showers bring Wedding Flowers
You may already have a favorite flower that you cannot live without for your wedding, or maybe you have no clue but want to stick within your color pallet. I personally love calla lilies for any time of year but if your favorite flower is not in season you will want to speak to your florist to come to a good decision that works for your vision and your budget. Popular spring flower choices include the classic and elegant rose which come in a variety of colors and sizes, the hydrangea which helps fill space in your bouquets as well as centerpieces and the romantic peony. With the beauty of these flowers, the addition of soft mint colored greenery you have yourself a bouquet that is photo ready.
Choosing a Wedding Venue
With Spring comes the flexibility of having indoor and outdoor weddings. While there are still showers and even a little bit of snow here and there, it doesn't mean you can't plan for a beautiful day. You will want to make sure to have ample space indoors and a backup plan if you are thinking of having an outdoor wedding. Outdoor weddings can mean simple decorations because the views are your decorations and in Virginia and especially in the Charlottesville and Blue Ridge Mountain areas.
Wedding Décor and More
Decoration which can include flowers, fabric draping, and candles, can make all the aesthetic difference. Spring ceremony décor ideas that are becoming popular are hanging lanterns if you're having an outdoor wedding, as well as a trellis to get married under. Fun centerpiece ideas include succulents, tall hydrangeas with peonies to bring a certain whimsical feeling to your wedding, and why not have a cupcake bouquet centerpiece to start your guests off on a sweet note? You will make your wedding your own and there are no wrong choices, only those you make which make you happy.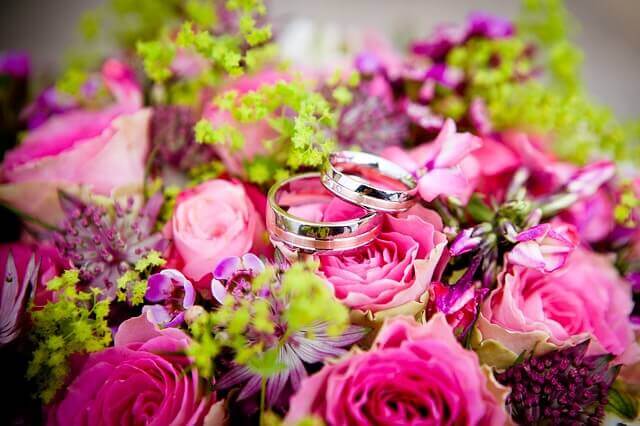 Ringing in the Spring
Time to Say I Do
There are many details that go into a wedding. Many Virginian wedding venues offer day of coordinators as well as helpful staff to help guide you through decisions on the big day. Take your time and enjoy the process because it will be gone in a flash. Make sure to make this day about you and your love and you will make many happy memories.