All of the spring has been gearing up for June. With the turn of good weather and hopefully no rain, the month has been a popular wedding month for decades. Many June Brides have chosen the month for the milder but still nice temperatures, beautiful blooming flowers, and it's just before the start of summers and the vacations it often contains. Although May kicks off the so-called peak wedding season, it really picks up during June! With all the planning going around there are so many more options for venues in the spring and summer months compared to that of winter.
Virginia is located perfectly for some of the best places for spring weddings. With its space and beauty, there are numerous places to hold your nuptials that feature romantic scenery and fresh blooms. Here are some of my favorite weddings venues to host a spring wedding.
Bed and Breakfasts
What better place to have a wedding than where are you are already staying? Being able to enjoy the lead up to the wedding in one place with all of your loved ones is something special that you can't put a price tag on. All of your friends and family are gathered there for you and why shouldn't you want to spend more time with them as the day of you will be quite busy. Bed and breakfasts are also uniquely situated in that they are usually historical and are in areas where there is some kind of significance either it is historical or around popular wineries which will allow your guests to enjoy the area as well as your wedding.
Wineries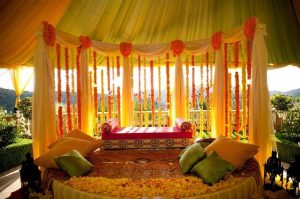 Spoiler: you knew this one was coming. Living in Virginia I am hard pressed to think of anyone that hasn't gone to a wedding at a winery. If I could think of one word to describe weddings at wineries it is elegance. Most wineries offer indoor and outdoor areas for both ceremony or dinner and dancing. There is a winery for everyone, big and small. If you want more rustic, there is a winery for you, if you want everything done for you and all in one place, there is absolutely a winery for you. I feel that wineries are a great place to get married as they already have a romantic element to them with the background of rolling fields of grapes surround you. While there may be a winery for everyone it might not be for you and there are so many other choices for you to review.
Farms and Manor Homes
Yes, farms! Many Virginia farm owners have either built or converted old barns into event spaces. Many of these farms have inherent historical value with beautifully manicured lawns and natural elegance that you can't get from in city accommodations. Be it indoors or outdoors with a tent, farms are an amazing choice if you want some room.  With manor homes, it's all about the historic and the unique architectural details you'll find throughout the property.
Whatever you decide on choosing for your wedding, make sure it's right for you as you'll remember this day for the rest of your life!