The

Grande at Grace Manor
North Carolina - $975,000
"The Grande at Grace Manor" a Superb Special Events Center Project
Offer Includes Land, Complete Project Development Plans and Approvals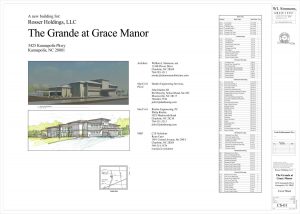 THE OPPORTUNITY:
The underlying 5.13 acre parcel is in a prime location at 3425 Kannapolis Parkway in Kannapolis, NC—one of the fastest growing areas within the vibrant and dynamic Charlotte-Concord-Gastonia Metropolitan Statistical Area (MSA) with a population of 2.68 million people as of the 2020 Census.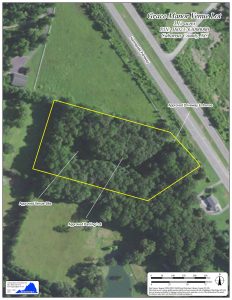 Within this small and growing MSA, there is a well-established need to serve the needs driven by household formation and those couples seeking upscale, luxurious, and all-inclusive special events venues for their wedding plans.  The Grande at Grace Manor has been conceived and planned to take advantage of that growing demand—and this offering is your opportunity to execute upon those concepts and plans, and reap the long term profits of doing so.
For reference, here is a brief glimpse of a page from the included bank-approved Business Plan which is part of this offer and which speaks to the relevant market for this location and new special events venue to be built: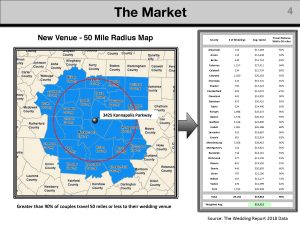 The professionally prepared 27-page Business Plan details a three year plan for success, which outlines how The Grande at Grace Manor will attract 150+ special events per year (primarily weddings & receptions) from the 26,000+ wedding events which occur annually in the overall Charlotte metropolitan area.
In broad terms, the Business Plan provides for a clear and realistic pathway to achieving top line revenue of $1.3M in Year 1 of operations, and rising to $2.2M at the end of year 3.  Net profit in Year 1 is projected to be $136K, and rising to $768K by the end of year 3.
THE VENUE DESIGN AND PLANS:
This offer also includes the complete 78-page architectural plans and engineered drawings of the building and site plans for a multi-story, 20,000 sq/ft events center that will accommodate up to 300 seated dinner guests with ample band and dance floor space.   The Grande is designed to be an all-inclusive event center with a full Commercial Kitchen, Bar, Entertainment Service Area, Accommodations for the brides and grooms, along with an opulent staircase as a focal point for grand entrances and photo opportunities.
In the greater Charlotte area, most existing special event venues max out at about 225 guests—The Grande was created and designed to capture the upper echelon of weddings and other events in both size and the exquisiteness of the overall event experience.  Please see the drawings immediately below to get a feel for the size and scope of The Grande:




CITY, COUNTY AND STATE PERMITS and APPROVALS IN-PLACE AS FOLLOWS:
NC DEQ Approved Erosion & Sedimentation Control Plan & Grading Permit
NC Department of Transportation Approved Driveway Entrance Permit
NC Department of Transportation Right-of-Way Encroachment Agreements for Utilities
NC Department of Environmental Quality Private (The Grande) and Public (City of Kannapolis) Wastewater Collection System Permits
Cabarrus County Building Permit
Kannapolis Planning & Board of Adjustment Approval for Conditional Use Permit
FULL SERVICE CONSTRUCTION EXPERTISE AVAILABLE for THE GRANDE AT GRACE MANOR
If this exceptional opportunity has your entrepreneurial spirits ready to engage and make it happen, you may wish to consider utilizing the vast experience and expertise of Robert Rosser, owner of Rosser Holdings (the Developer of The Grande at Grace Manor), RL Rosser Construction (Commercial Contractor), and Mid-Atlantic Structioneers (Structural Contractor).
Robert has excelled in commercial construction for over 35 years and is well known throughout the entire Southeastern United States for both exceptional building expertise and outstanding customer service with a team of highly experienced and well qualified employees and quality subcontractors.
Robert's businesses, team members, and his family are located in close proximity to The Grande site and Robert would be very pleased to discuss the potential of being your full service Contractor for the construction of The Grande.
SUMMARY:
This offering represents a unique and truly exceptional opportunity to acquire a prime property location for an all-inclusive events center , and hit the ground running with a bank-approved Business Plan, full Architectural and Building/Site Plans, and virtually all governmental approvals already in-place.  If desired, prospective buyers can also be put in touch with a senior bank executive already familiar with this property and project.
ASKING PRICE:  $975,000
---

FOR MORE INFORMATION PLEASE CONTACT:

Tyler Williams, Business Broker & Intermediary with Virginia Estates:
Cell: 703-850-4914 Email: ptylerwilliams@gmail.com
OR

Robin Weant, Broker with Patria Properties, Inc.
Cell: 336-407-3033 Email: robinfweant@gmail.com
---
The

Grande at Grace Manor - $975,000
Properties similar to

The

Grande at Grace Manor:
---
ALL INFORMATION IS PROVIDED IN GOOD FAITH AND DEEMED RELIABLE, BUT NOT GUARANTEED. BUYERS ARE ADVISED TO EXERCISE THEIR OWN DUE DILIGENCE REGARDING THIS INFORMATION. WEDDINGVENUESFORSALE.COM, A DIVISION OF VIRGINIA ESTATES ASSUMES NO LEGAL RESPONSIBILITY FOR ACCURACY.